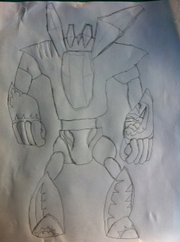 Aerialjack is Uranium Leonidas's Bakugan Battle Suit. Valentin also uses it as a Mech whenever he is fighting out-of-control Bakugan.
Information
Edit
Description
Edit
Aerialjack is the Bakugan Battle Suit of Uranium Leonidas. It has plates on it that appear to be wings. It also has clawed fingers capable of slicing through almost anything.
Role Plays
Edit
Aerialjack did not exactly first appear in a role play - it first appeared in topic called "Aerialjack" on the Bakugan Community.